Dwight Morrow

High School




Class Of 1958

2018...it was a very good year.
And here it is 2019…already!
(Now where did that year go?)
Well, for one thing, highlights of 2018 included one wildly successful class reunion in November, followed by an equally successful Ridgefield gathering, which included some party crashers from other towns, and which garnered attendees from as far away as Switzerland. (RJHS ladies: guess who?) A wonderful pre-New Year's gathering at the Bittmans' capped off the year and had us all reminiscing and planning.
And, so, I'm happy to say that we're still here, still kickin', still savoring our very special friendships with classmates near and far, who we knew (or maybe didn't know) 60 years ago. That's really something (I refuse to say "amazing", tho it is), when you think of it.
Back in 1958, we were naïve, clueless kids, thinking we knew it all – or trying to look like we did - who never really had a chance to get to know each other too well in those brief years. Heck, we didn't know ourselves!
Then life happened. We grew up, we put down roots, started families, started companies, started making incredible memories, and in the process, we each found ourselves in our own way. Fast-forward to 2008 – our pivotal reunion - and guess what? We found each other, again! Old friends revisited, new friends discovered. Ah, the stories there were to tell. But since then, what memories we've made, what stories we have to tell of the past 10 years…in many ways the most memorable in all of our 60-year history. Really, just think of it. Has your life changed since our 50th reunion—maybe because of it? Me? Absolutely! I won't go into detail now about that, but I will if you will, here on our Class Page, or on our class Facebook page (https://www.facebook.com/DMHS58).
Meanwhile, let's look ahead: What's left? Well, plenty, it turns out. Our fearless leader, Jon, said that we all enjoyed our 2 November reunion(s) so much that he's decided not to hang up his reunion-master hat after all. Our reunion committee --which keeps morphing and now includes just about everyone in NJ and then some--is in agreement. Sooo….it seems only fitting that we arrange another celebration, sooner than later (we aren't, after all, getting any younger, despite how rejuvenated we may feel).
Speaking of getting older, the idea of an 80th birthday celebration met with resounding applause when we brought it up in November after the Ridgefield reunion, so let's have some feedback from class members who weren't there to put in their two cents. What do you think?

Now, about all these palm trees.....
Consensus so far says 80th Birthday celebration in a warm destination, which pretty much leaves NJ out for half the year. With enough attendees, we can conjure up some good travel deals, or maybe a cruise, which has been mentioned several times. But so far, consensus likes the idea of FL, in particular, since so many classmates have full- or part-time homes there – or will by then. Nothing is off the table. We'd like to hear your ideas. Just think warm, sunshine, palm trees………. And be in touch, here (Message Forum), or Facebook, email, text, etc., etc.....
BLL
PS - The easiest way to stay in touch: clicking on the blue underlined links at the end of this post, above, will bring you directly to either our own Message Forum, or to our DMHS Facebook page. (Of course, I know, we're all so tech savvy...you knew that, didn't you!)
---

60THREUNION
THURSDAY/FRIDAY NOVEMBER 8 & 9
PARK RIDGE MARRIOTT HOTEL
MEET & GREET 4:00 PM, HOSPITALITY SUITE
COCKTAIL RECEPTION/BUFFET DINNER
7:00-11:00 PM JUNIOR BALLROOM
FRIDAY AM: BRUNCH AT HOTEL (PAY YOUR OWN WAY)
7:30 – 11:00 AM
FRIDAY AFTERNOON: LUNCH 2:00 PM
CAFÉ TIVOLI
533 Shaler Blvd, Ridgefield, NJ 07657
$25.00 PER PERSON
Full three-course meal, private room.
$25.00 pp tax and gratuities included.
Make check to: DMHS Ridgefield/Vicki Meier.
Send to: V Meier,12 Hall Court,Park Ridge, NJ 07656
Send check by Oct 30.
Further info contact: Vicki Parisi Meier at skmeiervt12@verizon.net
Or Barbara Rahner Reese at reesebj68@gmail.com
---
PLUS - FIRST TIME EVER:
A SKYPE/FACETIME FESTIVAL
BRING YOUR IPAD OR SMART PHONE
AND DURING THE EVENING REACH OUT TO FRIENDS WHO ARE UNABLE TO JOIN US.
---
BONUS: WE'RE BREWING UP SOME COLORFUL TABLE DECORATIONS AND GIFTS
DO YOU HAVE ONE OF ALAN HEMBROUGH'S UNIQUE CENTERPIECES FROM OUR 55THREUNION?
BRING IT ALONG TO DISPLAY ALONG WITH THIS CLASSIC.
DON'T MISS IT.
---

Intinerary:

Thursday, Nov. 8:

Meet & Greet in Hotel Pub & Lounge 4-7 (or earlier if you're in the mood for fun)
Buffet Dinner in Brookside Garden Room 7-11

Friday, Nov.9:

Group breakfast (pay individually) in hotel dining room,

7:00 – 11: AM (The hotel offers a continental buffet, and a hot buffet, or you can order from the menu.)

Hotel room rates:

Thursday, Nov. 8 -- $125.00

Friday, November 9 -- $125.00
If you prefer to fly in a day early, the rate for Wednesday, November 7, is $149.00 (because that's prime business travel time for the hotel.)

To reserve your room, contact the Park Ridge Marriott: (800) 228-9290.

We have blocked out 15 rooms (all with two beds), but if we need more rooms we have to alert the hotel. So if you are planning to stay at the hotel please let us know ASAP. Thanks.

We are amenable to planning a group event away from the hotel grounds on Friday afternoon and we invite your suggestions.

---

---
LET'S TWIST AGAIN! (like we did last century)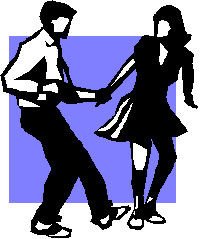 To one and all, a very Happy New Year 2018.
In case you haven't already heard, plans for our 60th reunion are afoot. Look for more Thursday Emails to keep you posted, and check these pages often for news about the big event. (Hint: even if you're not into traveling for our 60th, our committee is exploring ideas for including all of our classmates and making this reunion a "virtual" blockbuster.)
Stay in the loop! If you haven't already visited our new Facebook page, go to:
https://www.facebook.com/DMHS58/
to keep informed about the latest goings on with your classmates and find up-to-date info on our November 2018 reunion.
STONE FACES STAND GUARD OVER DMHS CAMPUS FOR DECADES
They reside atop dizzying heights and are often unnoticed by human eyes, but are ever watchful of our movements. They have observed us for many decades.
Who are they? They are the DMHS stone "gargoyles."
As a sophomore at Dwight Morrow over 60 years ago, I was first introduced to the more benign of the two lofty figures by my older sister, Betty, then a senior, as she walked me around campus on my first day. "Have you seen the little man in the tower?" she asked. I hadn't, and I didn't have a clue what she was referring to, so she walked me the main entrance of the school and pointed upward. It took a few moments, but then he suddenly came into view – a cute little bespectacled fellow with big feet, who reclined lazily, just a tier above the entrance, reading a book. Hardly fearsome, and thus technically not really a gargoyle.
I really don't think I gave this figure another thought in my remaining years at DMHS, nor even since then, until 50 years later when he popped into my mind for some reason as plans were being made for our 'big' reunion. I wondered if I imagined having seen him, because it seemed like none of my fellow students knew of him.
So, on a beautiful, sunny October day in 2008, more than half a century after graduation, I took a ride down to DMHS with my older brother, Jim. He, too, was curious, and didn't remember any tower figure. After a nice walk around the campus, we came to the front door where, lo and behold, there sat my little man, still reclining with his book. Although I didn't have the best camera for the task, I managed this photo. Can you make him out?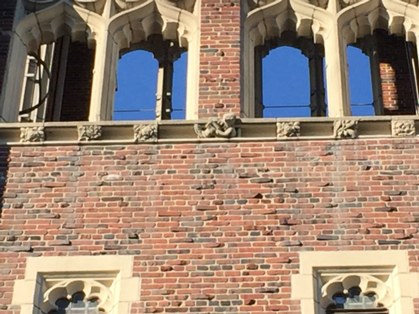 Does anyone besides me even remember this guy? Most of us were probably too busy having fun to notice-- not walking around campus with head in the clouds.
If only gargoyles could talk!! I'll bet this guy has seen a lot……..
Stay tuned and maybe we'll find out more.......
GOD BLESS AMERICA AND LONG MAY IT WAVE!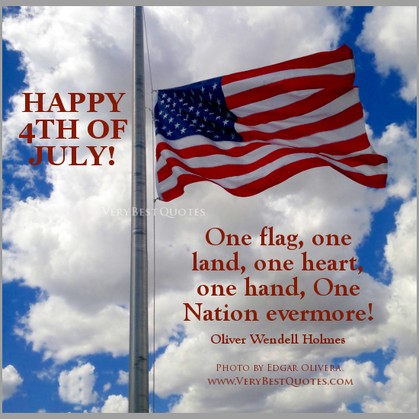 HAPPY NEW YEAR, EVERYONE!!
A wish for the New Year:
I wish you health
So you may enjoy each day in comfort
I wish you love of friends and family
And peace within your heart
I wish you the beauty of nature
So that you may enjoy the work of God
I wish you wisdom to choose priorities
For those things that really matter in life
I wish you Generosity so that you may share
All good things that come to you
I wish you Happiness and Joy
And Blessings for the New Year
Reunion 2013 - A 72-Hour Party....
What a reunion it was…!!
One would think, after the great success of our 50th reunion 5 years ago, that nothing would top it, but guess what? A great time was had by all at our 55th last weekend. How many were we? Less than half of our 2008 event. So, more time to mingle, more time to spend with each other, and mingle we did. As Jon said in his recent email, it was a 72-hour party.
Lots of cameras were flashing, so we're waiting for pictures to come in (contact info below), but in the meanwhile here are just a few shots taken with my little Brownie Box Camera to whet your appetite.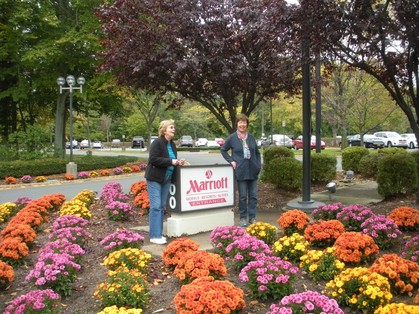 A beautiful fall day in Park Ridge (Kiley, Nelson)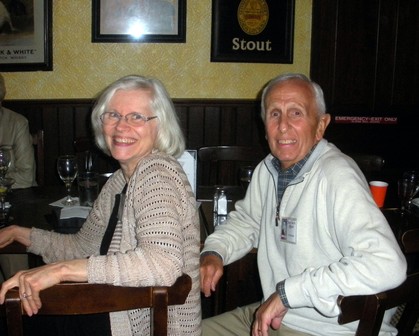 Thursday Night Mixer (Kingcaid, Brovero)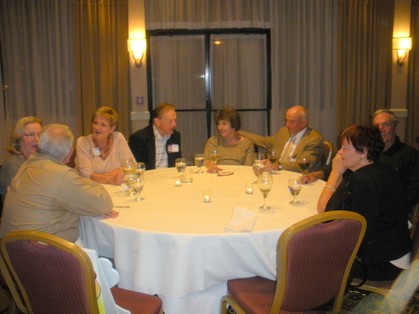 Friday Night Party (names?)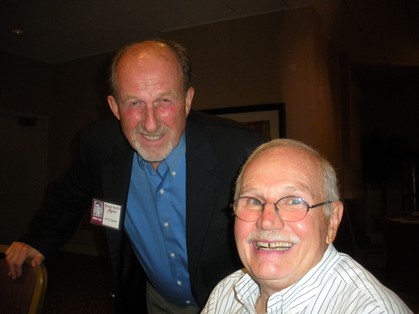 2 Gerry's (Or is it "Gerries," Miss Dincin?)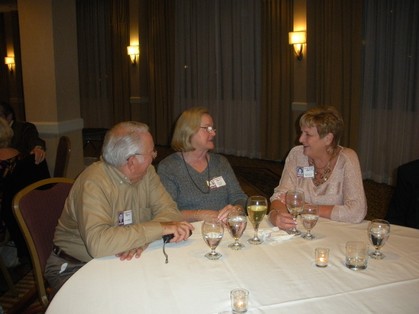 Mason, Johnson, Stryker (Is that a camera in your hand, Don?
Send some pix up north.)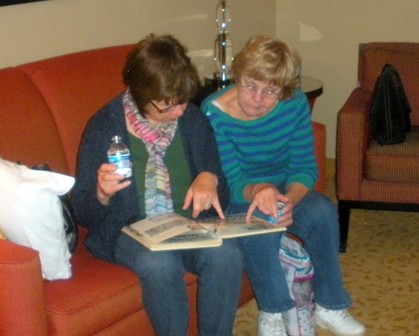 Our Hospitality Suite provided a nice respite during the day to just relax,
refresh, and browse through the yearbook.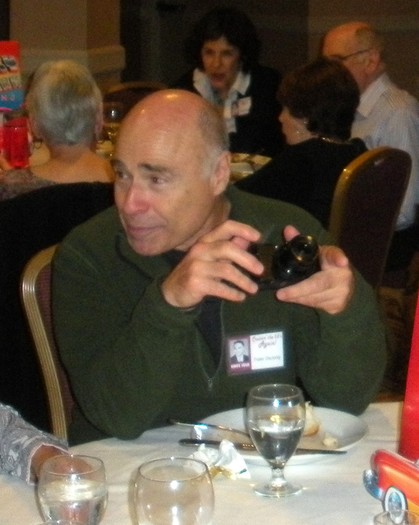 Pete deJong with a camera? What a surprise. Can't wait to see the results, Pete.
So, now that you have a quick sampling, send your pictures by email to Barbelle@verizon.net or Jonbittman@hotmail.com if you want them included here on the website (these are not links, so you'll have to copy/paste to start an email.) Or snail mail any paper prints to Jon Bittmann at 819 Georgetown Dr., Ramsey, NJ 07446, since he has a scanner and will digitize them. (Include a self-addressed envelope if you would like them to be returned to you after scanning.)
APRIL 2012: Attention Ridgefield classmates and all friends of Ridgefield classmates (i.e., everyone):
Barbara Rahner Reese has posted an announcement in our

Message Forum

regarding a showing this month in Ridgefield of her mother, Vera Rahner's, artwork at the Ridgefield public library. Follow the link

here

, or click on the Message Forum button at left, and scroll to the bottom to read Barbara's message and further details. Hope to see many of you there!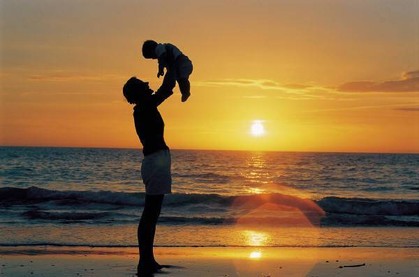 June, 2011
- HAPPY FATHER'S DAY
to all of our dads and grand dads - and also some great grandfathers among us, as well.
Here's a thoughtful quotation in the spirit of the day which we can all relate to:
"My father didn't tell me how to live; he lived, and let me watch him do it."
~Clarence Budington Kelland
HELLO EVERYONE:

I JUST WANTED TO TAKE A FEW MINUTES TO SAY HELLO TO ALL.

WISHING ALL YOU A WONDERFUL AND BLESSED EASTER AND A GRAND PASSOVER.

FINALLY SPRING IS STARTING TO BLOOM HERE IN THE METROPOLITAN AREA OF WASHINGTON, D. C. IT IS SUCH A MARVELOUS SITE TO SEE THE SPROUTING OF THE TULIPS, DAFFODILS AND KNOWING THAT WE ARE ALMOST GOING TO START FEELING HAPPY AND BLESSED THAT WE ARE STILL HERE. THE IDEA THAT PERHAPS IT WILL NOT BE TO LONG WHEN WE CAN GATHER TOGETHER AGAIN AND APPRECIATE HOW " LUCKY" WE ALL ARE TO HAVE BEEN TOSSED INTO THAT MARVELOUS PERIOD OF OUR LIVES SPENT AT DWIGHT MORROW HIGH SCHOOL AND THAT MOST OF US CAN STILL STAY CONNECTED BECAUSE OF OUR ATTACHMENTS SO MANY YEARS AGO.

THIS NEVER WOULD HAVE BEEN ACCOMPLISHED HAD IT NOT BEEN FOR SO MANY OF YOU WHO CONTINUE TO KEEP US UPDATED, CONNECTED AND LOVE WHAT YOU DO FOR US AND YOURSELFS. THANKS TO JON, ROSARY, BARBARA, JAY, ALAN, SHARON WHO HAS LEFT US AND SO MANY OTHERS WHO ARE RESPONSIBLE FOR THE POSTINGS AND OUR WEBSITE. MAY GOD BLESS ALL OF YOU.

BEST WISHES TO ALL......LOUISE

Quote of the month: "Baby, it's cold outside."
February, 2011 - Happy February, everyone - especially our classmates in FL and AZ! You don't know what you're missing. Above is a recent view from my back door, typical of our Northern NJ weather this year. Haven't seen the ground since early December. Don't ask what that big, white lump is on the right - probably some poor shrub that wishes it were anyplace else right now, but I can't remember what the pre-snow landscape looks like at this point, so who knows? What about you, wherever you are? How is winter treating you? (No gloating, please, FL, CA, AZ!) Send us some photos that we can post here on our site. Meanwhile, Happy Valentine's Day, Presidents' Day, etc., to all, and most of all, think warm thoughts.
January, 2011 ~ It's a new year, and first off we want to wish all of our classmates a happy and healthy 2011. Soon plans will be afoot for our 55th reunion (can you believe?), and we'll be seeking your input once again. It's not too early to start thinking about what kind of an event we'd like it to be, as well as time and venue. Watch our website for more info in coming months and, above all, let us know your thoughts on the subject.
Your site administrators have been a bit lazy lately -- have you noticed? We want to change that in the coming year with more interaction, and more input from class members. So drop a line and let us know what's doing with you. Weddings, graduations, trips, babies, celebrations? Profile updates are in order. Inquiring minds want to know....
Speaking of profile updates, we continue to enhance the site with increased abilities to edit and tweak photos, add videos, live chat and more. If you need help with any aspect of editing your bio, let us know. By now, you know how to contact your site administrators, and we're ready and willing to assist any time.
Meanwhile, with the new year still young, here's a brief rundown of the year that was, for us as a group:
In April, we celebrated our collective 70th birthday in Amelia Island, FL, as you know...or maybe don't? If you don't know, you'll find lots of pictures here on our Home Page and in the links below to attest to the fact that a wonderful time was had by all who attended. "All who attended" being the wonderful folks pictured below, along with our pianist, whose witty repartee and great playing made our evening sparkle.
We've included names below (finally) for this picture, as suggested by several classmates who weren't in attendance. As time permits and memory holds up, we'll try to do this with as many of the pix here on the site as possible.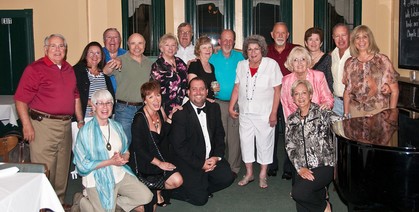 L to R: Don Mason, Lei and Rich Crance, Peter deJong, Barb Lowell, Charlie (Bob) Eltinge, Bev Kiley, Jerry Danker, Ginnie Gates, Tod Puletz, Phyllis Townsend, Audry Puletz, Stu & Rita Lestch. Kneeling: Pat Mielbrecht, Beth Danker, Bob the Piano Man, and the lovely Jacqui Mason. Not shown: Bob Mielbrecht (photographer), Gerry and Sandy Sokolik who, as usual, had a plane to catch, Rosary & Jon Bittmann (home with a pain in the neck...no, I mean a real pain!), .
Having missed April's festivities, by August, the Bittmanns were looking around for an excuse to get the locals together for another classic Bittmann fete, and the recent retirement of a couple of classmates, Rich and Barb, seemed like as good an excuse as any. As always, we gathered, we gabbed, we ate and celebrated. The weather didn't quite cooperate and, frankly, nobody even seemed to notice. It was a delightful day.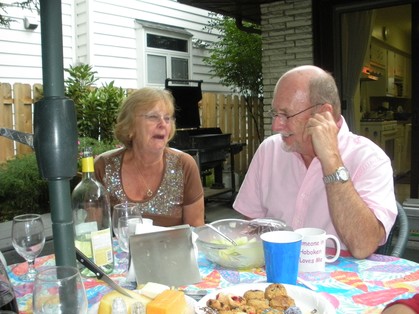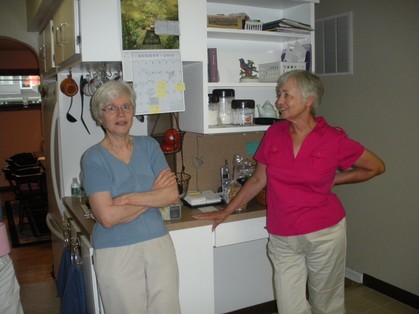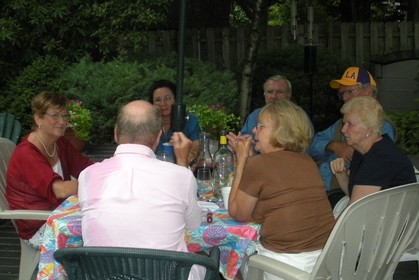 A November "meeting," was as close as you'll get to the Algonquin Round Table or a Lambs' Club Roast, when about a dozen DMHS alums met at the Emerson Hotel for a leisurely, laugh-filled lunch. Class of '58 attendees included Danny Brovero, Tommy Conklin, Steve Meier, Jay Shapiro and Jon Bittmann. Also on hand, from class of '57, were John Pyrros, Tom McCaffery, Bob Kaplan and Barry Druskin. Never-before-revealed tales of football, baseball, Coach Baldwin and Brody were the order of the day. We do this about every six months, which lets enough time pass by for us to forget which stories were told, freeing us to tell the same stories the next time around.
Come December, Jon & Rosary once again generously opened their home for another class of '58 get-together. There seems to be a certain magic about a gathering at the Bittmanns', and this was no exception. A surprise visit from our own class Santa, Alan Hembrough, capped the day and, as Jon mentioned in his recent email letter, it really did bring out the child in all of us with everyone clambering to have a photo taken with Santa. Here are a few: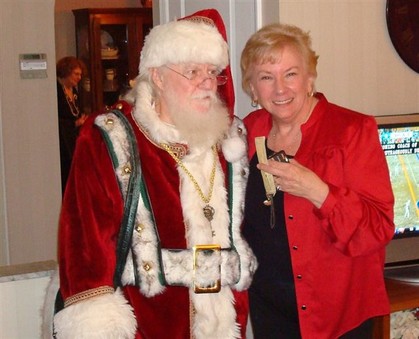 Alan has honed his Santa persona to perfection over the years and not only looks, but acts the part of one superb Santa. Thanks, Alan, for taking time out from a hectic holiday schedule to join us and lend a little holiday magic to the occasion.
---
Sadly, 2010 wasn't without its losses, and we'd be remiss if we didn't mention....

Bill Arp, Ridgefield, who passed on April 12, after a brave battle with multiple myeloma. Billy will always be remembered for his dedication and hard work on behalf of our troops, as well as being a devoted husband and grand dad and a great friend to all who had the pleasure of knowing him.

Tom Bellini, Englewood, on February 10. We do not have much detail on this; any further information and/or memorials would be appreciated, and can be added to our In Remembrance page. http://www.northjersey.com/obituaries/87308952_Thomas_V__Bellini__Jr_.htm

Patricia Ford Cherry, Oradell, on December 20, following a long illness. Again, not a lot of detail, but if you follow the link here you will find a very nice triibute to Pat. http://www.veronews.com/index.php?option=com_content&view=article&id=13061:patricia-f-cherry-70-vero-beach&catid=69:vero-beach-obituaries&Itemid=224

Margaret Cotter, Englewood, on November 26, 2010. AKA "The legendary Miss Cotter," as Jon aptly noted in his email in December. How fortunate we all were to have this dedicated woman as our teacher. She is fondly remembered and well regarded by generations of DMHS students and faculty.

Donald Ohnegian, Betsy George Ohnegian's beloved husband of 48 years, on December 13. Don was a lifelong Maroon Raider, a terrific husband and father, a world class gardener and, like so many of us, a true disciple of Coach Baldwin.

Each of our friends has a story and a legacy. We have lost their presence, but they remain in our hearts always. Your remembrances here on the website will continue as long as the site continues, and are comforting to read, for family members as well as classmates.

So, as we roll into 2011, here's a toast to life and friendship. While we're here at the party we might as well dance.