WHAT'S NEW?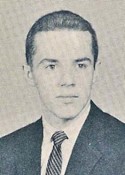 "HAPPY BIRTHDAY"! HAVE A GREAT DAY & HAPPY HEALTHY YEAR!
VICKIE (PARISI) MEIER
Happy Birthday Steve...have a great one. Hope you and Vicky are doing well. Stay safe and happy and hope we can get together in the very near future.
Howie: Wishing you a wonderful and Happy Birthday, and remembering our fun filled times growing up together. Best regards and wishes always. Steve
Happy 80th Joe - To you and yours for a great year. Sally
Best wishes and Happy Birthday. Hope all is well with you and your family.
Joe, Have a wonderful 80th birthday! Many more to come. Might get to see you one day. Always are on the West Coast! Many more to come! "Happy BIRTHDAY" Stay well!
Regards,
Vickie & Steve Meier
PS Can you believe it?
"HAPPY BIRTHDAY"!
"Have a great 80th birthday. Time does go sooo fast! Maybe there will be another reunion. See you then! Have a great day!
Happy Birthday Richie...Hope you and your family are all doing well. So far my family and I are all OK. Who would have ever thought we would experience times like this. Loved the picture of you and Peter Euteneur. Brought back some happy memories. Have a great day and a happy, healthy year.
Rich, What are your plans for the big "80"? We wish you all the best and stay healthy ??. We're doing fine but feeling like caged animals, haven't been anywhere in months??. Best to Irene.
A very happy birthday to you! It's so hard to relate to the age we've become 80! Stunning, but at least we're still going. Hope life is good &!healthy for you. Who is Weezie?
Great to hear your update. Had lunch with Marlene in Las Vegas two weeks ago. Right now we're in the middle of our self quarantine. Stay well??