Teacher Memories
While many of our fine teachers were decades older, and may no longer be with us, others were pretty young in '58, and are still living full, active lives now. We have heard news of some of them and would like to have more information if possible, So if you have kept in touch or have any information at all about our teachers' activities or accomplishments since 1958, please let us know.
This is an ongoing feature, so please feel free to add to it anytime by sending an email through the site ("Contact Us") or by posting your story on the Message Forum

Meanwhile, following is a collection of teacher memories from recent website posts, to be followed (soon) by photos of the entire DMHS staff:
"I wish it were possible to send thanks across the years and realms to Jessie Boerger, Margaret Cotter, Anita Dincin, Gladys Francis and, above all, Ione Eckersen and John Trout. I'm indebted to them for helping shape my sense of vocation, and I like to imagine that what I do with my own students is an extension of their legacy. ~ Richard Cross
"So, thanks to George Baldwin for building character in us, and Ione Eckerson(especially,for her "tried and proven" recipe for getting rid of hicoughs), Margaret Cotter, Sally Sproule, J.Carvel Sparrow, Al Naples, Elizabeth Patton, Madamoiselle Larned for 2 years of "Bonjour", and the many other teachers who worked so diligently to do their very best to make sure that we did ours." ~ Alan Hembrough
---
George H Baldwin ("Coach") - Physical Education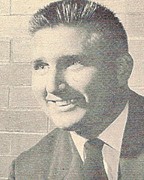 "We all remember Coach for football, but he was the best baseball coach I ever played for. He coached the junior high and freshman teams, and he probably saved my life by taking me out of the outfield (where one day for sure a fly ball was going to brain me), and put me on the mound where I had a fighting chance. Then after I came back from Marietta after one semester (ran out of money), Coach arranged for me to meet the Athletic Director at Fairleigh Dickinson who made it possible for me to register at FDU several days after the Spring '59 semester started. From there I played three years of varsity ball and got the scholarship that made it financially practical for me to complete my education. Never would have happened without George stepping in with help at the moment when I needed it most." ~ Jon Bittmann
(I remember) having Coach Baldwin try and change me from a righty hitter to a lefty hitter since I am naturally left handed. What a disaster." ~ Steve Ploscowe
"I remember his "final." had all of the girls sit in the stands and then we had to do 100 pushups. I don't think any of the guys failed to do them!! My future wife went to Bloomfield HS, where he wound up later on. she saw him somewhat later and told him that she knew an "Englewood guy." He correctly told her that she could do much better" ~ Fred Taylor
"One of my fondest memories might be when Coach Baldwin blew the whistle to start gym class and 100 guys froze except for Bruce Druskin who followed through on his patented one-hander and swished one way past 3-point range. The Drusk goes "oh baby". Coach Baldwin ran across the floor and almost strangled Bruce to death. Anyway, Bruce is no longer with us, but the Coach is." ~ Dave Brody
"In my senior year Phys. Ed was last class. I had a job after school and since I was not a great athlete, skipping last class was an easy choice. One day I met Coach Baldwin who thought we should talk about what to do about my not going to class and how to handle graduation without a grade in Phys. Ed. I went to see him, very nervous, to say the least. After letting me sweat a bit, he "let me off," saying he recognized I was not ever going to hit a baseball no matter what we did!" ~
Louis Berardi - French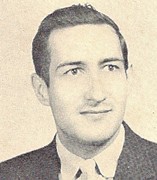 "Then there was Mr. Bernardi, the French teacher. I doubt he was much older that we were. His accent was perfect ...but I had a good time teasing him when he wasn't up to par" _ Judy Rosner Gedalia
Margaret Cotter - Mathematics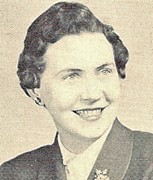 "Before my Algebra 2 class with Margaret Cotter, math was an ordinary subject for me; I studied hard and passed the tests. In Miss Cotter's Algebra 2 class, math became logical and transparent to me, it just flowed. I owe Miss Cotter my technical and scientific career." ~ Peter deJong
(Thanks to)..."Miss Cotter for encouraging and challenging me in math. I owe it to her for having pursued the subject and was able to teach statistics in Colombia." ~ Ruth Johnson Ruibal
"In addition to being an excellent teacher she sold us a book of common trigonometry formulas and logarithm tables which I used throughout college. This was in the days before pocket calculators. In addition, in the last week of class when all the books were turned in, she read the class a book called, "Flatland" about a world in 2 dimensions where there was no concept of "up". It was a great way to learn to think outside the box. I still have a copy of the book today." ~ Peter Rothenberg
Ione S Eckersen - Social Studies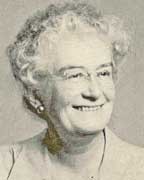 "One helluva teacher!!! truly inspired and had faith in me when few others did. the only person who could've gotten me to go in to the nyc public library to do research on zoroastrianism!!! still somewhat of a sinophile, to this day, thanks to her." ~ Fred Taylor
"The sort of broadmindedness and generosity of spirit Mrs. Eckie exemplified were pretty unusual in the rather pinched atmosphere of the 1950s...The last time I saw Mrs. Eckie was at her retirement dinner in 1968. If I hadn't realized it earlier, that occasion made it evident how large a part of her life we, her students, had been. News of her death reached me three years later while I was a Fulbright lecturer in Würzburg. She would certainly have approved of my being there, and--who knows?--I might not even have been teaching abroad had she not touched my life." ~ Richard Cross
"Special affection for Ms. Eckerson for allowing me to move into Far Eastern Survey from Trig/Calc where Ms. Cotter said I 'HAD' to get out or 'FAIL'." ~ Richard Crance
"Who couldn't love this woman! Personality-wise, she was like an 'Aunt' or 'Grandma' anyone would love to have. Wise with age, the patience of a saint and enough knowledge and love to share ... making us all better people for having known her." ~ Alan Hembrough
"I have fond memories of Mrs. Eckie - who doesn't? She was an ardent sinophile, piqued my interest...I would venture to say that it is Mrs. Eckie that infected me with the travel bug." ~ Judy Rosner Gedalia

"...one of the most influential teachers during our high school years. She was a mentor and a friend to me, a very special person. However, the most interesting experience I had with her was not during my years at DMHS but rather after college. She and I were both graduates of Smith College. She graduated with the Class of 1922, although I do remember her telling me she was supposed to be in the Class of 1921 but was quite ill during the year, causing her to lose too much class time. She recuperated and joined the Class of 1922 to finish her studies and graduate that year. I always kept in touch during and after my college years. In 1967 when I told her I was going up to Northampton for my 5th reunion, she told me her 45th reunion was at the same time. After much thought she decided she wanted to come with me. I can't begin to tell you the fabulous time she had. She hadn't been back to Smith since 1922 and she was so excited to be there again. She took part in every activity she could and the smile never left her face. She was like a college student all over again and it was great seeing her in a completely different light. I will never forget her. ~ Judy Tunick Greenspan

"Who couldn't love this woman! Personality-wise, she was like an "Aunt" or "Grandma" anyone would love to have. Wise with age, the patience of a saint and enough knowledge and love to share ... making us all better people for having known her." ~ Alan Hembrough

Frances M. Gaski - Spanish


I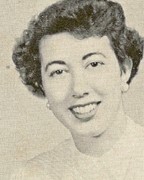 "No Rio usted! Anyone remember the translation?" ~ Louise Geissenberger Caporaletti

"Oh, that I could have had her for year two as well!! Still speak it somewhat, although I now have to go back to rosetta stone to review...she gave me a good head start!!" ~ Fred Taylor
Casper W. Hill - Science (1919-2008)
http://www.legacy.com/CapeCod/DeathNotices.asp?Page=Lifestory&PersonId=114692875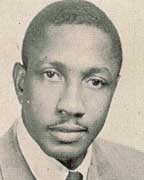 "We were lucky; we had some outstanding teachers, and our chemistry teacher, Casper Hill, ranks number one on my list." ~ Bill Arp
"(He) allowed me to write a 10 page thesis on "The Whatness of Is" rather than dissect a frog. Bless his soul." ~ Merle Fenderson
Anita K Dincin - English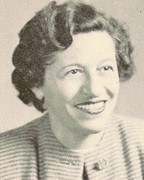 "What an inspiring teacher. You wanted to give her your best." ~ Geri Kahn Karetski

"She used to say 'sharp pencil-sharp mind' - anyone remember that? " - Louise Geissenberger Caporaletti

"Either you loved her or you didn't. Mrs. Dincin told it like it was. When i didn't get her for English in my senior year, I went to administration and begged, and they gave in." ~ Sandra Wohlberg Nagy

"...Having Mrs. Dincin tell me that if I am anything like my older brother she will not like me too." ~ Steve Ploscowe

"...very hard on me but brought out abilities that i didn't know I had. Couldn't "love" her, but had to respect her. Still use things that she taught me to this day." ~ Fred Taylor

"I too have to add to the accolades for Mrs. Dincin. She was an excellent teacher and a wonderful friend to me. She worked with me on my college application and I will forever have a warm place in my heart for this very bright and astute lady. She was definitely formidable at times but once you showed her that you were a studious, and interested student, she appreciated your enthusiasm. She gets my vote!!!" ~ Judy Gitterman Goler

"I remember Mrs. Dincin as the toughest teacher I ever had. But she was good! Once she said that something I'd written was tripe - or trite. I never did figure out what she meant." ~ Leslie Kerr Bush

Well, to all those Mrs. Dincin fans - let's recall together her 12" ruler - and her smile as she whacked your arm - in jest, of course. Can you imagine anything like that happening today? I can't remember why she did it - maybe a bad grammatical mistake or a stupid spelling error. But that memory sticks in a pleasant way. Nothing mean about it, just fun. I also have a vague recall of some spelling (or dictionary) challenge she used to give - 10 cents(?) if she could stump your parents? Or something like that. Anyone have better recall? ~ Bill Lieber
Marian Kulik - Business Education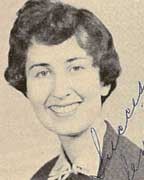 "....mention of Mrs. Kulik reminded me that I owe her whatever I am today. I couldn't go to college because my parents wouldn't allow it. Against their wishes, I was encouraged by Mrs. Kulik and made application. She even drove me to Montclair to take entrance exams as I had not taken college boards. Further she wrote a lovely, and very personal recommendation and even spoke to an interviewer personally. It was certainly due to her that I got my acceptance and though I was accepted to Fairleigh Dickenson also, Montclair was my dream. Your profile reminded me of her and her faith in me and that was a really good moment. Thank you, Mrs. K." ~ Lorraine Tripido Gallagher

"My homeroom (#232, as I recall) teacher as well as my instructor in steno and transcription, lucky Mrs. K. saw enough of me on a daily basis to actually remember me (or is it "try to forget") 50 years later. What I remember best about is her serene and professional demeanor - a good example for us secretarial hopefuls - and her patience and ready smile. Oh, those timed tests! They, and she, taught me tenacity and commitment." ~ Barbara Lowell LaPointe

Following is an excerpt from recent note from Marian Kulik, who now lives in FL:

"After DMHS, I moved to Melbourne Beach, Florida, and taught for 27 years at Satellite High School in Satellite Beach, Florida. At Satellite High School, I taught Business Law, Business Computer Applications, Accounting 1 and 2, and Shorthand. I was the Vocational Education Chairperson for the last fifteen years and advisor to the Future Business Leaders of America. At the state level of competition my students won First through Fifth place.

Diane Vadelf Gill keeps in touch with me and occasionally visits me. It's wonderful to know that students remember their teachers. Other students that come to my mind are Marie Sinclair, Barbara Gomillion, Jane Izzard, Alice Ryan, Mary Louise Knapp and Patricia Timmins. I remember that on my last day at Dwight Morrow, my shorthand class made up words of parting from the melody taken from the song, "The Yellow Rose of Texas." Patricia wrote the words.

I hope you enjoy all of the reunion events and thanks again for thinking of me. After retirement, I studied Ballroom dancing and enjoy every moment of dancing. I'm attaching a picture of my dance partner and me taken about a year ago. " ~ Marian Kulik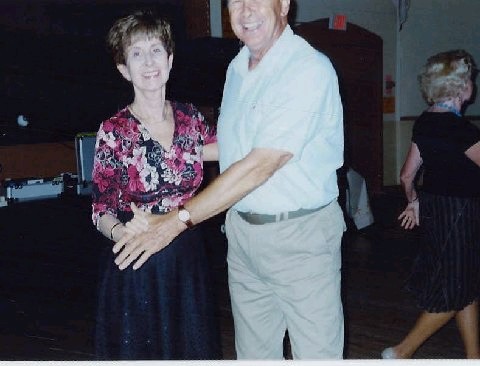 I'm very thrilled that students remember me and I would love to from them. MarianKulik@aol.com

Thank you for your pleasant memories of me. Recently, I spent several weeks in Turkey. My daughter-in-law is from Istanbul. This picture was taken in Cappadocia. If you are presented with an opportunity to visit Turkey, you will certainly enjoy your visit.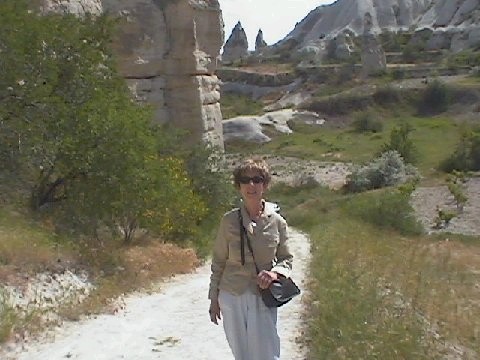 T J Kropczynski - Music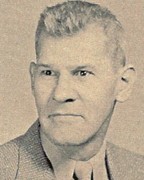 "My significant memories include Mr. Krop and my time in the band and the Chansoneers. While I think we all hated that we had to sing or march again and again and again, he not only gave us identification in the school, certainly a sense of pride in what we did." ~ Richard Crance

"I loved the music program at DMHS, and was a member of Girl's Chorus, Chansoneers and Band. Of interest is the fact that I was one of Mr. Krop's nurses at Columbia during his last days." ~ Jean Dawson
John Lundy - Mathematics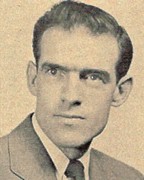 "Well Jack Lundy was a neat guy. He enjoyed teaching Advanced Math to us and discussed "Life" as well as Math. He told us about where he grew up in the City and that most of his friends became gangsters and a few cops. He became a teacher and an amateur actor. We found out that he was performing in Our Town in NYC and a bunch of us went to see him perform. Later we went back stage to congratulate him and when he saw us, he tried to hide the case of beer which was clearly in view. Jack was a true Irishman with a fun sense of humour. Knowing that there were many Jewish kids in our class, Jack had a contest: what is best most creative Jewish/Irish name? Winner was Tooraloora Lipschitz!" ~ Connie Merlino Tamburo
"He made math easy to understand. He always felt he loved teaching us which made his class ... a highlight." ~ Ann Mason Colburn
William Matts - English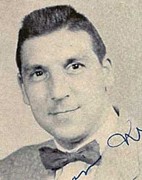 "Mr. Matts...used to stand on the top of his desk and stamp his feet to get our attention. He was a short guy, really cute and so comical. He had the right idea, because it worked." ~ Merle Fenderson
"Mr. Matts made me love Shakespeare. I have a season subscription to the Cincinnati Shakespeare Company, and cherish my evenings with 'The Bard'." ~ Lesly Kerr Bush
What a nice looking - and nice - man was Mr. Matts. Look at that twinkle in his eyes! Because he was so easygoing and funny, we tended to act up a bit more with him, thinking he was a pushover, but he always got the last word, and he was a truly fine teacher who tempered his wisdom with humor. I forgot about his special means of getting our attention till Merle mentioned it. ~ Barbara Lowell LaPointe
Thomas J Morgan - Social Studies, Physical Education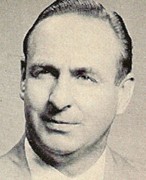 "...learned two of the most valuable words from him that I still teach to this day: "caveat emptor!" Also his topics: the worst form of punishment known to man or womankind - although my class was all guys." ~ Fred Taylor
Elizabeth K Patton - Fine Arts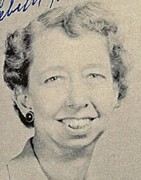 "She always gave encouragement to the individual and seemed to thrive on letting us challenge our limits of creativity. She took the time to involve herself in one's design thought process helping along the way with seasoned years of experience. She taught me to critique my own work and recognize areas for improvement. This helped to strengthen character and prepare me, not only for highly critical professors in years to come, but also clients in my professional career who, with pencil in hand, would scribble stick figures to show you how an ad layout should be. Miss Patton was very helpful in guiding me toward my selection and enrollment in Syracuse University School of Fine Art" ~ Alan Hembrough
"When I think of Miss Patton, the word "unflappable" comes to mind. She had an easy and pleasant way about her that made you know she truly enjoyed what she was doing. Whether she recognized that some were budding Rembrandts and others just fumbling along, she never let on, but encouraged us all. She let me do a term paper on DaVinci and Michaelangelo, rather than a "final" drawing or painting. It was around that time that I was getting my first inkling I might do better at writing than painting." ~ Barbara Lowell LaPointe
Marjorie Schwartz - German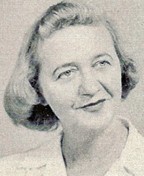 Sarah K Sproule - English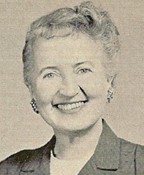 Dave Brody and I were in a world of hurt in Ms. Sproule's English class.
Soooo! We asked her to change our grade to a C, if we washed her car.
- Tom Conklin
"I loved … Mrs. Sproule's class with her acting out Shakespeare." ~ Jeannette Campbell Abel
"Here was one sweet lady! Well-dressed, proper, dignified (almost all the time) … she expected the very best from you, knowing full well that "very bests" differered from one student to another. And when she looked into your eyes with her big smile, it just made you want to do your very best for her." ~ Alan Hembrough
She seemed so cultured and reserved -- and when she rolled those innocent looking, pale blue eyes, one would think she was about to swoon! But then would totally surprise all with her "acting"….She was, indeed, a complex and funny lady! After class on day she taught me this little poem which I've never forgotten for some reason: 'I am the way I am, that's why I do the things I do. If you don't like the way I am, the hell, my love, with you.'" ~ Barbara Lowell LaPointe
Sally Winfrey - English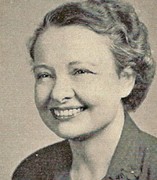 "She was so encouraging in a soft spoken way. She had no need to intimidate, just gave us direction and expected our best. One never wanted to let her down. She thought her students could do anything." ~ Ann Mason Colburn
"My most significant memory about my teachers concerns Sally Winfrey. When she asked me to be editor of the yearbook, I had never taken any leadership in any activity at all. I didn't really want to and didn't feel competent. She saw something in me that I didn't. She also saw some writing ability to which I had never given a thought. Doing the yearbook helped me to gain some confidence as a leader. By second semester of senior year, the yearbook was mostly done, college applications sent in, and it was time to coast a bit. Sally assigned a term paper. Oh s--t, says I. I don't really want to do it. So I says to her, I says, " Oh, Miss Winfrey, when we wrote about 'Tiger, tiger burnig bright' on a creative writing assignment you gave us, I saw this image in my mind, and can I do an oil painting instead of the term paper?' She said I could. Yipee! No term paper! As it turns out, I spent many more hours on the painting than I would have on a term paper, got to express myself in a painting, and she got to hang the thing in her office. Later, when I 'discovered' during my sophomore year in college that I wanted to me an artist, I realized that Sally had enabled me to connect with what I really wanted to do before I knew it. I had thought that I was getting over on her, but I now believe that she knew what was happening. When I saw her a few years later, she never made light of my discovery, nor did she take credit for her wisdom. Her humility and wisdom remained with me throughout my life especially in my career as a teacher. I never thanked her fully. Thank you, Miss Winfrey." ~ Carl Hirsh